What Type Of Presentations Can You Provide?
Care Lodge is deeply committed to prevention education, awareness, and support within our community. Educational efforts increase the community's ability to support victims of abuse in their journey toward survivor-hood and promotes opportunities to prevent violent acts from occurring. Listed below, you can find examples of community outreach presentations. Care Lodge customizes the learning outcomes for your individual group's needs.
Law Enforcement- Training on the role of law enforcement in domestic violence cases.
Medical Protocol- Training on domestic violence detection and intervention.
Social Service and Other Agencies- Presentations on Care Lodge services and domestic violence issues.
Churches- Presentations on Care Lodge services and domestic violence issues.
Teachers- In-staff training on domestic violence detection in children of all ages.
Community-Based Bystander Intervention - A program developed and implemented across the United States by Alteristic to reduce acts of power-based interpersonal violence (domestic violence, stalking, sexual assault and child abuse).
Domestic Violence - Warning signs, helping others become survivors, Care Lodge services
Parenting and Children- Presentation on effects of domestic violence on children and building self-esteem in children. Age appropriate information on violence prevention and bullying.
Teens- Presentation on teen dating violence and the warning signs
Feedback from Law Enforcement:
"Every year Care Lodge does an outstanding job in presenting up-to-date information! Very informative!"
"This is my 6th year to be present for this training. Outstanding & professional presentation. My favorite training EVERY YEAR!" 
"This course should be required for all LEOs several times a year."
What youth are saying about the presentations:
"I was bullied a lot in middle school. This presentation reminded me to keep going!"
"I learned to 'be that one person' to change the outcome of my community by standing against violence."
"The speaker was brutally honest and spoke about important stuff that nobody talks about."
Green Dot Bystander Intervention Program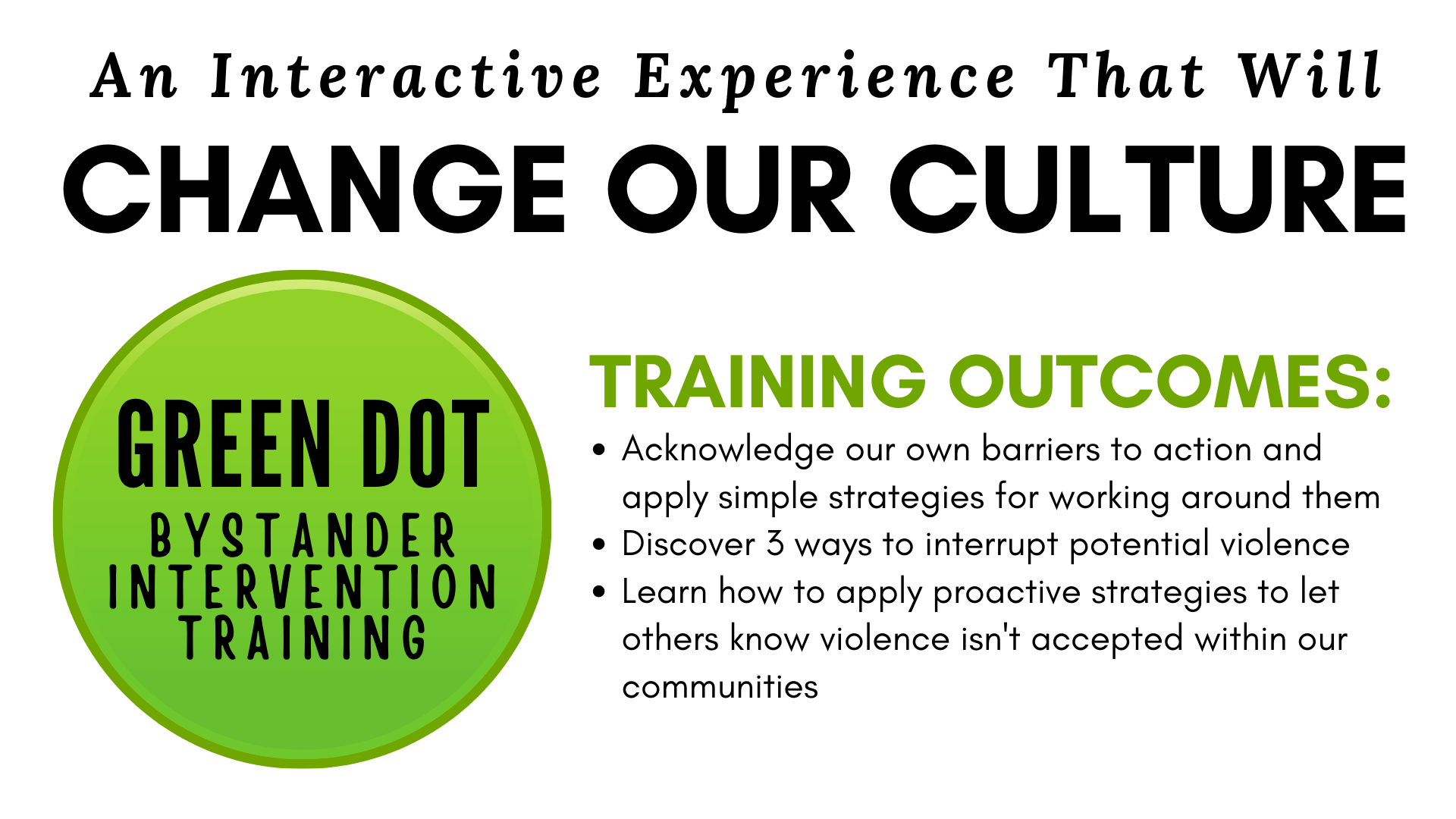 Click HERE to learn more about the Green Dot training program facilitated by Care Lodge staff.
How Can I Schedule A Presentation?
We create content based on the goals of your specific audience. Please include any special instructions and questions you would like answered at your presentation in the spaces provided below.