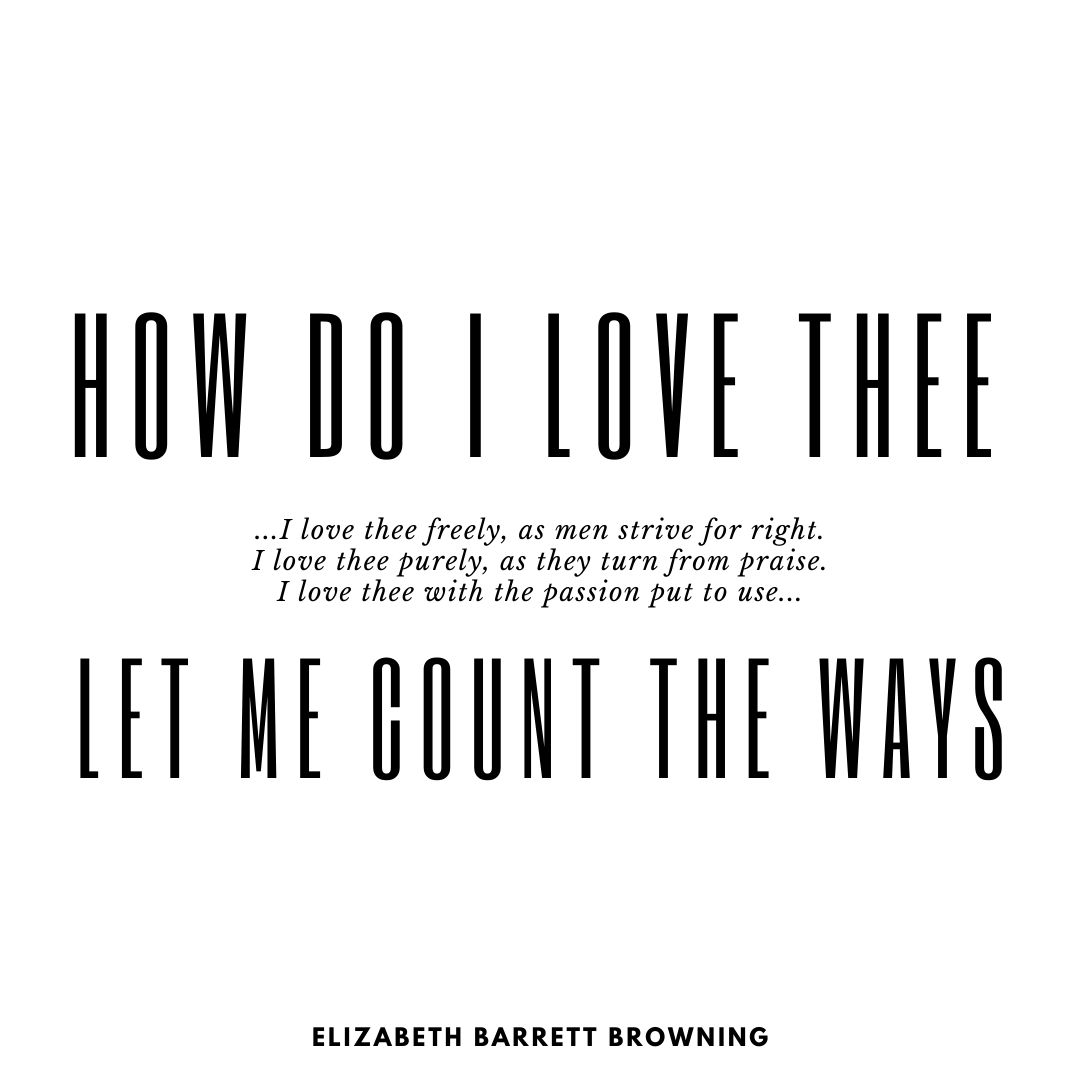 Elizabeth Barrett Browning's life is a story of how a Victorian Poet developed her creativity using an expressive art form that contributed to her overall wellness and helped build the courage needed to leave a corrosive family enviornment. Through her poetry and love for learning new things, Browning enlightens others on the deep emotions and struggles of humanity, and applauds choosing a loving, supportive relationship over toxic connections of the past.
Intellectual wellness is one of the 8 Dimensions of Wellness which is being able to recognize your creative abilities and finding ways to expand knowledge and skills. This dimension involves having curiosity about the world around you and being a lifelong learner.
Interesting facts about EBB:
By her twelfth year, she had written her first "epic" poem, which consisted of four books of rhyming couplets. Two years later, Elizabeth developed a lung ailment that plagued her for the rest of her life. Doctors began treating her with morphine, which she would take until her death. While saddling a pony when she was fifteen, Elizabeth also suffered a spinal injury. Despite her ailments, her education continued to flourish.

Elizabeth often researched new subjects she was interested in like learning Hebrew so she could read the original Old Testament.  

Gaining attention for her work in the 1830s, Elizabeth continued to live in her father's London house under his tyrannical rule. He began sending Elizabeth's younger siblings to Jamaica to help with the family's estates. Elizabeth bitterly opposed slavery and did not want her siblings sent away. (Both sides of her family historically supported slave labor.)

She came from a family of power, wealth and influence.
Her morals and values were not in alignment with those of the generations before her.

Elisabeth's brother Edward drowned while sailing at Torquay, and [she] returned home emotionally broken, becoming an invalid and a recluse. She spent the next five years in her bedroom at her father's home. She continued writing, however, and in 1844 produced a collection entitled simply "Poems". This volume gained the attention of poet Robert Browning, whose work Elizabeth had praised in one of her poems, and he wrote her a letter.

Her skill of being about to convert feelings to words helped her to become, not only well known, but was noticed by her future husband.
She had a choice at this point to remain trapped in a toxic home environment with her father, or accept the invitation from her dear friend, mutual love interest, and supporter, Robert Browning.

Elizabeth and Robert, who was six years her junior, exchanged 574 letters over the next twenty months. Their romance was bitterly opposed by her father, who did not want any of his children to marry. In 1846, the couple eloped and settled in Florence, Italy, where Elizabeth's health improved and she bore a son, Robert Wideman Browning. Her father never spoke to her again.

Robert Browning spoke life, love and freedom into Elizabeth and gave her hope for a better future.
A mixture of support from her siblings, having goals for her future, and Robert's pure love for her smoothed the path ahead for a huge life transition.
Her father disowned her for choosing to marry and leave the family (or can I be as bold to say, he was bitter and jealous because he no longer had control over her life).
In many cultures, even if a grown child makes a decision outside the blessing or consent of the parents, they are often cut off from the wealth or influence that family is connected to. This is a major barrier to survivors of domestic violence and a reason why they may choose to stay with their family of origin.
Elizabeth had enough protective and promotive factors in her life at this point to help her make an informed decision to leave home and enter a life of safety and security with Robert.
It can be overwhelming to grow up in a home full of power, control and manipulation. When broken relationships are all you have known, forming new bonds with positive and uplifting individuals can feel like a breath of mountain-fresh air. However, leaving the past behind you is not as easy as it seems. It is perfectly normal to experience feelings of loss or grief even if you are separating from abusive relationships. When we are curious about life, ask questions, and seek opportunities to learn how to increase our understanding, we become empowered and hope for a better future seems a little more attainable for us. "Knowledge is Power". This power can supply us the strength and courage we need to take a leap of faith in the right direction, like getting help from a loved one or community program like Care Lodge.
If you need help escaping from an abusive home environment, consider calling Care Lodge today at 601.693.4673 and speak with an advocate who can help you plan your exit strategy.
---
This blog coincides with National Wellness Month in August, and brings awareness to leaning into positive and supportive relationships while developing your knowledge and skills for personal growth!
If you are feeling stuck in the stages of grief, you can call our community partner Weems Community Mental Health at Tel: (601) 483-4821 or toll-free (800) 803-0245.
If you feel overwhelmed by the circumstances in your life, you can take a self-assessment screening HERE
"Interesting facts" content was found on poets.org
Want to dive deeper into this topic? Check out the movie "The Barretts of Wimpole Street" and see how the Browning family began and how the power of real love heals and breaks the cycle of violence.
#carelodgems #ThePowerOfLove #LetToxicRelationshipsGo #RealLoveHeals #NationalWellnessMonth #VictorianWisdom