Registration - FULL DAY WORKSHOP
POSTPONED: Care Lodge's 27th Annual Conference on Interpersonal Violence
This form is currently unavailable. Try again later.
---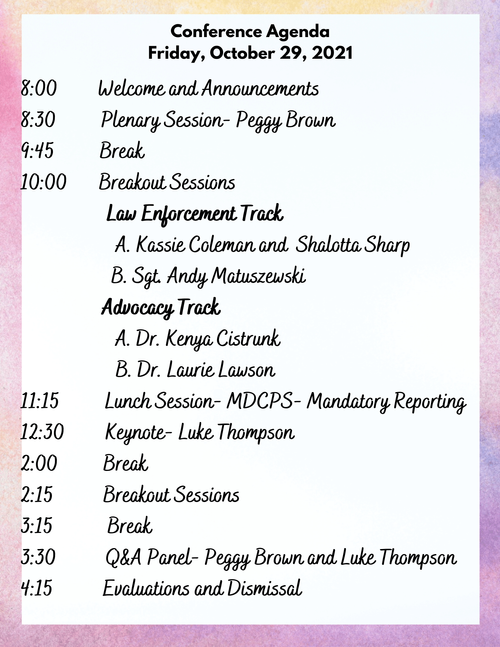 ---
Speakers
Keynote - Luke Thompson

Luke Thompson has spent the past twenty one years in law enforcement. Luke has a long history of working to make local law enforcement better for all of those that work in and with our law enforcement partners in Mississippi. He led the Gulfport Police Department to their first law enforcement accreditation. He was the first police chief for the City of Byram being hired in 2010 to create the newly formed city's first municipal police department. Luke began working to train officers to better serve victims of domestic violence in Mississippi in 2017 when he partnered with state and non-profit partners to implement lethality assessment protocols within his own department. He further found opportunities to train other local law enforcement and service providers in the practice of risk assessments. He is the former Chairman of the Mississippi Law Enforcement Accreditation Commission and Former President of the Mississippi Association of Chiefs of Police. He currently serves as an Administrative Officer for the Department of Justice in Mississippi.

Plenary- Peggy Brown

Peggy Brown is currently an independent consultant and contractor living in New Orleans, Louisiana or Montezuma, Iowa depending on the time of year. She has a passion for helping nonprofits who work with victims of domestic and sexual violence. She is especially partial to working with states and territories with a high rural population. She is the former Executive Director of the Alaska Network on Domestic Violence Sexual Assault (ANDVSA), a coalition of 22 domestic violence and sexual assault programs across Alaska. Peggy was at ANDVSA for over 20 years. She was also a registered lobbyist in the State of Alaska and provided leadership on both a state and national level in the areas of nonprofit management, lobbying, coordinated community response, primary prevention, legal advocacy, legislative and policy advocacy, and training and resource development. She served on the Advisory Council for the National Sexual Violence Resource Center (NSVRC), Rape Abuse and Incest National Network (RAINN), and various committees for the National Network to End Domestic Violence (NNEDV). Her varied work and educational background include law enforcement, engineering, healthcare and policy development. She has received state and national recognition for her commitment to helping advance the status of victims of domestic and sexual violence

Dr. Kenya Cistrunk

Dr. Kenya Cistrunk works as an Associate Professor of Social Work and serves as the Social Work Program Director at Mississippi State University. Her professional work experience allowed her to work with clients in the juvenile justice system, child protective services, and others. Dr. Cistrunk is a 1997 graduate of Mississippi State University, where she earned a Bachelor of Social Work degree. Soon after, she earned a Master of Social Work degree from the University of Alabama, where she studied program planning and administration. In 2013, she earned a doctorate degree in Adult Education from the University of Georgia, where her research centered around the needs of homeless adults and faith-based community agencies. As a qualitative researcher, she focuses on service provisions for marginalized and/or oppressed populations and examining under-resourced communities and groups.
As an active member of several professional and community organizations, Dr. Cistrunk is committed to lifelong learning, continued professional development and community service. As an award-winning faculty member, Dr. Cistrunk believes in the power of community. She works to ensure that future social workers equipped with the knowledge and skills they need to be successful practitioners.

Shalotta Sharp, RN, SANE-A, SANE-P

Mrs. Sharp is a Registered Nurse and worked as an Emergency Department Nurse for 18 years. She is a 1996 graduate of The University of West Alabama, School of Nursing. She is Special Projects Coordinator for MS Coalition Against Sexual Assault where she is responsible for education and technical assistance to any agency that is involved with victims of Interpersonal Violence. She is Nationally Certified SANE (Sexual Assault Nurse Examiner) in Adult, Adolescent and Pediatric Patients (SANE-A, SANE-P). She was the first SANE-P in Mississippi. She established a Pediatric Forensic Exam Clinic in Meridian, MS where children were referred from Department of Human Services and Law Enforcement from 17 counties. Mrs. Sharp has served as a consultant to the MS Attorney General in the development of forensic documentation forms, the evidence kit update committee, and regional trainings regarding STI's, Emergency Contraception Prophylaxis, Medical Components of Strangulation and Education for Law Enforcement. She also serves on the MS Attorney Generals Human Trafficking Committee. Mrs. Sharp has been qualified as a medical expert in sexual assault, domestic violence and strangulation in Circuit Court, Chancery Court, Civil Court, Youth Court of MS and Federal Court Martials. She has taught the SANE Course for medical providers across the US through Marshall University, West Virginia University, The Office for Victims of Crime, The Department of Justice, IAFN and Indian Health Services. Mrs. Sharp has also worked performing forensic medical exams via Tele-Medicine in Tupelo and Meridian, MS for the University of MS Medical Center Childrens Hospital. She is also currently staff for University of Arkansas Medical Systems TeleSANE Program as a medical provider. Mrs. Sharp is currently a member of the IAFN (International Association of Forensic Nurses) where she served on The Board of Directors, Director at Large; AL Chapter IAFN Certification Chair and Former Director at Large for the West AL Area; IAFN Government Affairs Committee; IAFN Conference Planning Committee and National Pediatric Protocol Working Group. Mrs. Sharp has been awarded the Jackson Free Press "Hero of the Year Award", the IAFN "Service Award" and MS Attorney General Office "The Amy Clayton Victim Service Award".
---