Registration - VIRTUAL FULL DAY WORKSHOP
26th Annual Care Lodge Conference
This form stopped accepting submissions on October 23, 2020 8:00 am CDT.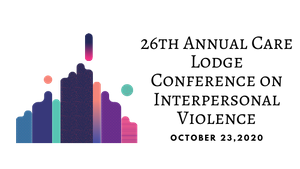 Come join professionals from across the region to learn about the cases that fall between the cracks of service in our community. Keynote speaker, Mark Wynn, is a renowned expert regarding law enforcement and domestic violence.
THIS IS A FULLY VIRTUAL CONFERENCE THAT WILL BE HELD ON ZOOM.
Social Work and Mississippi Law Enforcement CEUs available!
---
---
Breakout Session Descriptions
"The Realities of Violence Against Women- Assessing Lethality and Threats"- Mark Wynn
This session exposes participants to the reality of violence committed against women and the dangers to those who provide services to the victim/survivor. The common characteristics of victim and offender, missed crimes, the reasons these crimes are missed, and the impacts of missing these crimes will be outlined. Assessing the lethal risk to victims and the "threat" will be explored. The participants will be guided through the verbal threat; its impact on the victim and how to build a view of seriousness using pre-incident indicators to violence. A profile of domestic related homicide using actual case examples and the common denominators in these fatal cases will also be discussed.
"When Children Are Left Behind"- Andrea Germany
If "No Child Left Behind" is the goal of education, we must first identify the struggles that children bring with them as they enter the school building; abuse, neglect, homelessness, domestic violence, and poverty are all hardships that many children face daily. Some studies suggest that as many nine out of ten cases of child abuse and neglect go undetected and unreported by the adults in their life. As social workers, counselors, teachers and other professionals, how do we identify vulnerable students? What are the signs of students in need? And, how do we respond when we identify a need?
"Ethics in the Pandemic" - Dr. Angela Savage
This session will dive into the ethical challenges of social work practice during COVID-19. Additionally, participants will have the opportunity to learn more and discuss how social work practice during the pandemic shapes the lives and outcomes of our clients, colleagues, and families. 
"Nurture vs. Nature: Exploring the contributing factors that can create and lead to victimization and learning strategies to heal!" - Dr. Rosanne Nunnery
Participants will gain knowledge about nature versus nurture and contributing factors that influence behavioral responses. Presenter will explain the connection between mental health disorders, attachment patterns, common gaps in care, and ways to assess for need. Presenter will explain specific strategies that can be implemented to promote healing.
---
Thank you to our Virtual Vendors! Be sure to click the links to learn more about their services!